Now a days most of the USA settled NRI's (Non Resident Indians) are being consulting Vastu Consultant in selecting plots, houses, flats, factories or Nursing Homes. Vastu shastra is a most effect science and it helps lot for peaceful and standard life. This is good phenomena and we welcome this changes. Now people are doing good job by selecting Vastu Consultant positive properties. Visit this Vastu Shastra website upto our uploading files. Or Visit Vastu Consultant USA Website for fully designed and total vastu articles, a world class vastu website particularly prepared for NRI's and whom needed Free Vastu Shastra. Call Mr.Suresh Siddanthi on (00 91 98481 14778) for Vastu Consultation (He wrote 14 vastu books and having 19 years of experience and created a wonderful vaastu website subhavaastu.com). Shortly this website will be uploaded with rich vastu content.
Now most of the NRI's have doubt that how to select a good plot according to vastu shastra. Yes, here this website helps you how to select a good plot on Vaastu principles. Vastu Concepts are generally if the people construct the house with Vastu Compliance then they will enjoy peaceful life. Some belief are there that if we followed vaasthu then the inmates will get money, it is wrong concept and misleading. If one has followed vasthu principles then they will enjoy the real peace. Vastu website s are now going to enlarge the quality vastu tips and techniques. This is a good thought.
Selecting the plot according to Vastu Concepts :
Before we proceed further to buy a plot / house / flat / factory / commercial complex / shop or any other property we have to acquaint ourselves with the various directions of which is necessary to follow the issues.
Observe the following figure :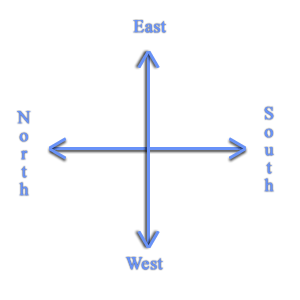 The above figure shows the four directions with which we are normally familiar in so many areas or places. We may observe these type of directions almost every where. The directions here shown are East, South, West, North. They are also called as cardinal directions.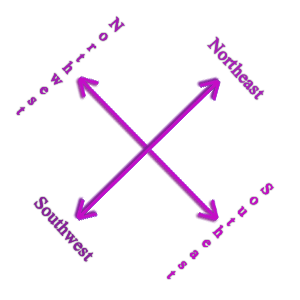 In the above image the arrows shows the four corner directions. A corner is formed at the centre of two cardinal directions. The four corner directions are Northeast, Southeast, Southwest, Northwest. Here the earth is not turned, but the alignment of the plots are turned. So the directions are looks like as above. Directions never changed. They are constantly formed and fitted to exact positions from starting of the Universe. East is always East, it never changes, like wise all the directions are also never changes and fitted into their own positions only. Let us now translate the above information to a plot.
Let us say you have a plot. Measuring 60X80 feets. Take a small compass and keep it on the ground near the center of the plot. Rotate the compass so that the red tip of the needle of the compass is over the letter 'N' marked on the compass scale. Now you can identify the various directions as shown in the following image.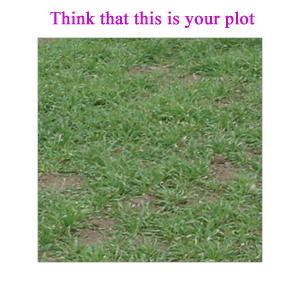 This that this is your plot. Here now we are going to check the directions with compass., if we keep the compass on center of the plot we can find the North, East, South and West directions. Along with directions we can find out the corners also. Now we will check all the information.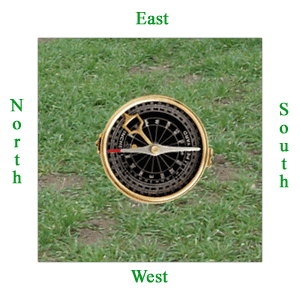 Here observe the compass direction, it (red mark in compass) is showing North direction. So this plot is directional plot. Now a days several residents are doing a wrong step, by reading some vastu books and doing alterations to their properties or buying the properties after reading some vaasthu content from books and doing practicals or experiments, finally this leads to unhappy things in their life. To avoid all issues, it is always suggesting that, better to approach one vastu consultant before buying the property or modifying the property. If you require more and elaborated information the below link will clearly explains you about Vaastu Shastra subject.In the future if you require vastu recommendations then please contact only the best expert vastu consultant in India only.
Learn More on Vastu Shastra ....Contact Vastu Consultant Suresh on his mobile : "00 91 98481 14778"